I kind of liked the first book in this trilogy. I didn't like this one nearly so much. (I loathed the third one, but I'll get to that in due time.) It takes place not so long after the first one, and the story now centers around an actress who finds herself embroiled in an anarchist plot to kill Hitler. Meanwhile, she is slated to star as a revolutionary female Hamlet, and while that was almost a saving grace … the author's knowledge of Shakespeare, and Hamlet, let her down, which let me down.
"I imagine Claudius as a man bad enough to commit murder, but with enough conscience to come to feel guilty." Uh, no, that's not your imagination. That's the way he's written. That's exactly the way he's written.
The cast and crew is all stirred up about their iconoclastic production. "…The whole indecisive thing did make more sense for a girl, who wouldn't expect to inherit automatically. A son and heir being usurped would be a fool to do nothing about it…" Yeah, but … That's not how it worked. There was no "inherit automatically". The kingship in Denmark in Hamlet's time period worked entirely differently. So – this is a non sequitur. And ignorant, for a dramaturg. And rather offensively sexist, I don't think I really need to add (although in a book I liked I'd be excusing that based on the setting).
I did enjoy this moment, regarding whether it makes more sense for Hamlet to be a woman: "Mrs. Tring laughed. 'If it made more sense, you can trust that Shakespeare would have written it that way round first off and saved a lot of trouble.' *hugs Mrs. Tring*
I think another small reason I began to dislike this series was the narration. The first book alternated between one male and one female character, and I liked both. Or at least became used to both. While the male character – and narrator – carry over for this second book, the female character (and thus narrator) is new, and I didn't enjoy her reading as much. (I believe it was she who pronounced Boedicea as "Bow-disha", which is an entirely new one on me.)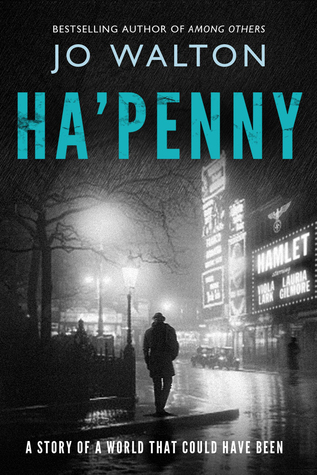 It might not have been so much the narrator, however, as that character, Viola. In a way, I liked the divided perspective she developed, with half of her continuing to work on her role as Hamlet – while all the time the other half of her is participating in plans that will destroy the play. And the theatre. And, hopefully, Hitler. She just wore out her welcome with me after a while. Rather like the heroine of the first book, she's not the sharpest crayon in the box, and … I just didn't like her. When one of her sisters died, she says at one point, "I went to the funeral, even though it was up in Yorkshire, and meant hours on a blacked out train". Gosh. And she was only your sister. That's mighty decent of you. Heroic, even. Here's a medal. She is simplistic about her motivations for her planned act of anarchy; granted, it doesn't require any complex reasoning to know Hitler is evil, but (like Lucy from the first book, Farthing) she's rather childlike.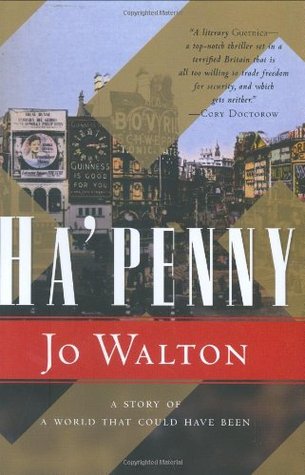 "It was a detail that had always stuck with me, even when I thought it was just a horror story. It was the stuff of nightmare, being given soap and going into a shower but the soap is a stone and the showerheads vent poison gas."
And there is Inspector Carmichael again, being drawn deeper into a position which could endanger his relationship with his (male) lover (homosexuality being seen as nearly as bad a Judaism in this Nazi-riddled alternate world). He's kind of a hard-luck fellow – nothing seems to go his way. So when, toward the end, he is cheerful about the case being nearly over, it's a clear and certain sign that something is about to go catastrophically pear-shaped. He tells himself, "Not for very much longer now!" And I said, Uh oh.
I just didn't enjoy it much. I didn't like the taste going down, and I didn't like the aftertaste. But I'd already bought the sequel…