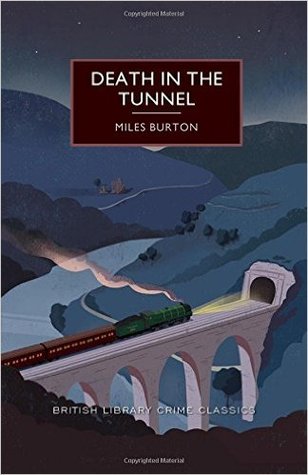 I love that Poisoned Pen Press and another publisher or two are seeking out and bringing back Golden Age mysteries, really solid books written in the thirties and often only rarely seen since. I'd never come across Miles Burton ("one of the pen-names used by Cecil John Street") before, and how marvelous is it to find a new-to-me author with a decent bibliography I get to read?
Pretty marvelous, is how marvelous.
Now, Miles Burton was no Dorothy L. Sayers or Josephine Tey, an author I'll follow anywhere. But he was pretty darn good. The crime in this book is a sort of a twist on a locked-room mystery: a death that takes place on a train as it goes through a tunnel. It looks like a suicide. Suicide makes sense. Murder makes no sense at all. But our detective, Inspector Arnold, and his buddy Desmond Merrion ("a wealthy amateur expert in criminology"), don't like it as a suicide.
Merrion is, perhaps, a few too many miles ahead of the professional, and the professional just a tad too content with following along behind – but even so it's a good story, nicely told. One thing In particular that I like is the almost twenty-first century level of caution in the investigators statements. No one seems willing to say "This is the gun used to shoot the victim" or "this is the bullet that killed him"; it is all about the evidence. It's so common for a mystery to set up a really corking situation, only to fizzle in the solution – and that doesn't happen here. The plotting was clever, if a bit confusing at a time ("who's that, now?"), and the solution satisfying. I look forward to more.
The usual disclaimer: I received this book via Netgalley for review – my thanks to them and the publisher.